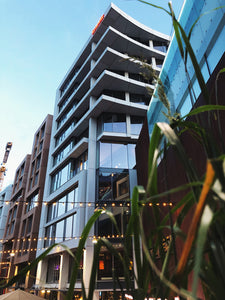 Scandic Vulkan Hotel, Oslo. Keeping up with the green travel trend.
With Oslo achieving "European Green Capital of the year" on a recent visit to the charming capital to attend the biggest vegan event in Norway, The Oslo Vegetarfestival. We of course looked for a place to stay that showcased this Nordic forward thinking. 
We are always amazed at all the genius eco-friendly ideas we see in Norway and it appears Europe has noticed too. With the majority of cars being electric, and all the bikes and scooters to loan all over the city, plus lots of initiatives to recycle, reuse and reduce in place it seems that the city is leading the way.
We found the Scandic Vulcan hotel which turned out to be the perfect base as it was situated only a minute walk from the festival, situated in the beautiful urban environment next to Mathallen.
The hotel boasts the Nordic Swan Eco Label and prides itself on providing a greener hotel experience.
Take a look at all the little sustainable touches Scandic Vulkan has to offer:
"Hang up your towel" initiative
Hotel recycle bag - donate to the Salvation Army
Recycling bins to separate garbage in your room
Pet friendly policy
Bikes for loan
"green breakfast" options -100% vegan options
MORE VEGAN – HEALTHIER – GREENER
Scandic Vulkan promises green food options within their breakfast buffet on their website. And it appears they have been listening to their clientele who have been requesting vegan breakfast options. We were pleasantly surprised by the number of vegan options clearly marked with a green label within the cold selection. We found vegan cheese, ham, cheese spreads, butter, hummus, pate, peanut butter & jams all complimented with freshly baked breads. There was also a great selection of fruits, fruit smoothies & juices. Coconut & Alpro yoghurt available with a great selection of granola, oats, nuts, seeds & berries to top. We also found some soya milk & agave nectar to make a perfect morning caffeine fix.

A hearty and healthy breakfast and all 100% vegan we were impressed! Only suggestion we could make would be to offer some hot foods for those that like it. Perhaps scrambled tofu or some vegan sausages? But honestly we thoroughly enjoyed the breakfast and think that Scandic are really showing that delicious vegan options are available within their hotels. 

We also have to add the breakfast serving staff were absolutely amazing! Very friendly & helpful with any questions we had. Thank you for a fantastic experience!
Another delicious breakfast option we also got to sample were the sour dough bread baked by a local organic bakery Handwerk next door to the hotel. Whilst not all options are vegan the breads we did sample were delicious, soft & tasty! 
Scandic are moving forward within the ecotourism industry and began their first sustainable development in 1993 with the introduction of the "hang up your towel" innovations as a way to cut laundry and waste, which is now industry standard. Scandic continues to lead the way in the industry offering staff training in environmental issues and involving sustainable practice in day to day operations. Scandic also has 180 hotels certified under the Nordic Eco Label. Read more about their sustainability and social responsibility practices here. 
We were also intrigued to find out that Scandic Vulkan have their own beehives on the rooftop of the hotel. As vegans we don't use honey as we don't believe in using any animal products. However, we understand the importance of supporting the bee population and helping it to thrive.

What are your thoughts on using honey? Vegan/non-vegan or those that are plant based but do use honey. We would love to hear your opinions.

If you are interested here's an interesting article about the secret life of city bees.


 Final note... we couldn't forget the rooms. Beautifully decorated with a chic urban style. And not forgetting there are some pet friendly rooms available too! 
---